Willow Creek 3 Clubhouse. The Clubhouse is closed due to Covid-19.
The Willow Creek 3 clubhouse is available for rent to Willow Creek 3 residents. Clubhouse amenities include:
• Large main room
• Full kitchen (large refrigerator, stove top, oven, sink, microwave, garbage disposal, granite counters, pass through to main room).
• ADA compliant restroom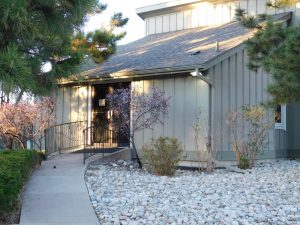 • Gas fireplace                                                      
• 12 square folding tables
• Two eight-foot banquet tables
• 75 folding chairs
• Cushioned casual chairs, sofa, ottoman
• Wi-Fi
• Television
• Ceiling fan
• 18 car parking lot (shared seasonally with pool and tennis courts).
Clubhouse Availability Calendar
Click here to view the clubhouse calendar showing current and future dates and times the facility is available.
Rental Information
Clubhouse rental is $35 per day. A $100 security deposit and signed clubhouse rental agreement are required. 
To reserve the clubhouse, arrange for a clubhouse key, obtain the rental agreement and receive complete rental details, contact clubhouse manager Deanna Mumfrey at 720 933-0785, or by email at wc3clubhouse@comcast.net.  The clubhouse key must be returned no later than midnight the day of your event.
You are required to clean the clubhouse after use and take away all trash. No dumpster is available. A broom, mop, vacuum, garbage bags and cleaning supplies are provided. The clubhouse will be inspected after use and your deposit could be withheld.
You can decorate the clubhouse for your event as long as all decorations are removed, no marks are left, no damage is done and the clubhouse is left clean.
You may prepare food or have food catered. Alcohol is allowed as long as all laws are followed, it is kept within the clubhouse and it is not sold. The pool and tennis courts are not included in the rental.