October Willow Works Newsletter
Here is the digital edition of the October Willow Works.  The print edition should be in residents' mailboxes sometime around the first week in October.
Eat, Drink & Meet Your Neighbors
Join your Willow Creek 3 neighbors to taste exquisite bottles of wine on Saturday, November 12, from 7 p.m. to 10 p.m. at the Willow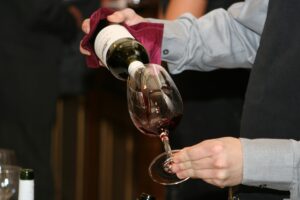 Creek 3 clubhouse.
Your Willow Creek 3 Social Committee is hosting a wine tasting.  From Sparkling Brut to Chardonnay and Pinot to Merlot, taste several amazing wines from Heritage Wine & Liquor.  There will also be food pairings to go with each wine, so you'll have the opportunity to test the wines and see how they stand up to different foods. 

Be there for an evening of wine tasting, food pairing, conversation and fun (and music by our very own Sekhar)!  Two adults only per household, please.  You must be 21 or older to participate and must show your driver's license.  Please RSVP by October 23 to new Social Committee chair, Diane Kohler at dkrn856@gmail.com.
Enjoy a fun and delicious evening together with good wine, great friends and neighbors.   And if you would like to join the Social Committee, the committee can use some helping hands.  Please email Diane to volunteer.
Willow Creek 3 Holiday Babysitting Event
Saturday, December 3, from 4 p.m. – 7 p.m. at the Willow Creek 3 clubhouse.
Parents of young children (must be potty trained) are welcome to participate in this Holiday Babysitting Event.  Your children will enjoy a fun night while you take some time to get some things done for the holidays.
We are currently seeking teens interested in helping host this event at the clubhouse.  Email our new Social Committee chair, Diane Kohler at dkrn856@gmail.com if your teen is interested.
Parents, stay tuned for more information!
News Notes
Pool Closed 
Our Willow Creek 3 pool has closed for the 2022 swim season. 

2022 Waste Connections Recycling/Trash Calendar
Looking for a printable Willow Creek 3 Waste Connections recycling and trash calendar for the remainder of 2022?  Here it is.  And if you'd like a printable sheet detailing items Waste Connections accepts (and doesn't accept) for recycling, click here.
Food Trucks Extended Through October
Food trucks will be at the Willow 2 clubhouse parking lot the second and fourth Wednesdays in September and were recently added for October.    The clubhouse is located at 8500 East Mineral Drive. Food service takes place between 5 p.m. and 7:30 p.m.  Everyone is welcome.
Here is a listing of the September and October trucks with links to websites:
• September 14: Nel's BBQ; J Street; Sweet Cow Moomobile.
• September 28: Pierogies Factory; Smokin' Bones; Anne's a la Mode.
• October 12:  Gyros King
• October 26:  Umai Express; Bandwagon.

The Clubhouse is open for rentals
See the Clubhouse page for details.

Important Contacts and Links
• Willow Creek 3 Board Email Address:
WC3directors@gmail.com
• Management Company:
RowCal
5995 Greenwood Plaza Blvd., Suite 240
Greenwood Village, CO 80111
careteam@rowcal.com
303 459-4919
• Willow Creek 3 Manager
Kendell Johnson
303 459-4919
Email: careteam@rowcal.com
• Dues: 
Single-family home dues:  $107.00
Townhome dues:  $153.00
• Clubhouse Manager: See the Clubhouse page.
Email: careteam@rowcal.com
Clubhouse fee: $65 for Willow Creek 3 residents, $100 for businesses (resident owned). $100 deposit.
• Pool and Tennis Court Keycard:
Email: careteam@rowcal.com
• Dolphins Swim Team (Willow Creek 3 youth swim team):
Email: swim@wc3dolphins.com
• Willow Creek Women's Club: 
Email: willowcreekwomensclub@gmail.com

• Willow Creek Tennis Club: Mary Beth Doerr, President
Organizes and promotes tennis activities for all three Willow Creek communities.
Email: marybethdoerr@gmail.com.
• Waste Connections (Trash and Recycle): 303-288-2100
• JBK Landscape:
Email the WC 3 community manager with questions at careteam@rowcal.com
• Perfect Pools (WC3 pool management):
Email the WC3 community manager with questions: careteam@rowcal.com.
• Arapahoe County Sheriff's Office non-emergency number: 303 795-4711
The ACSO provides police services under contract with the city of Centennial.
• City of Centennial Information Line: 303 325-8000
Available 24/7 to answer questions and direct you where to go for help.
www.centennialco.gov.    
• District 3 (includes Willow Creek) City Council Representatives :
Mike Sutherland, 303 754-3407, Email: msutherland@centennialco.gov
Richard Holt, 303 754-3367, Email: rholt@centennialco.gov

• City of Centennial Animal Control :  303 325-8070
• South Suburban Parks and Recreation: 303 798-5131
• South Metro Safety Foundation: 303 805-0228; 720 989-2260
Classes offered by this organization include: CPR, Driver Awareness, Teen Crash Avoidance, Super Sitting Babysitting.  They also do child car seat inspections.
• Nextdoor.com:  A free social network serving neighbors and the community.  Monitored locally by Willow Creek residents.
Do you have website questions, comments, suggestions?  Email website administrator Bob Correll at bob7633@gmail.com.