A Very Special Santa Day Celebration
Santa Claus is coming to town and to Willow Creek in a fire truck! Join your Willow Creek community for its first Santa Day on Saturday, December 14 from 12:30 p.m. to 3:30 p.m.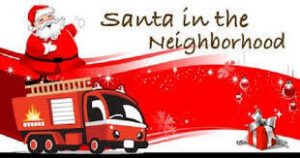 Together, WC1, WC2 and WC3 HOAs, along with Derek Gilbert of The Gilbert Group, are co-sponsoring Santa Day! Beginning at 12:30 p.m., thanks to the elves at South Metro Fire Rescue, fireman Santa will travel down East Mineral Drive on a fire truck and around the corner past Willow Creek Park to the Willow Creek 3 clubhouse.
Inside the clubhouse, you will have the opportunity to take pictures with Santa. Please bring your own camera. Kids crafts, cookie decorating, music and snacks will be available. All of Willow Creek is invited to attend. Enjoy this community-wide event!
If you are able to help volunteer, please email fiona_emeraldisle@yahoo.com.
Jones District Regulating Plan Approved
At its Monday, November 18 meeting, the Centennial City Council approved the Regulating Plan for The Jones District. The Jones District is an office, residential and retail development proposed to be built on 36 acres of vacant land just east of Willow Creek between the Ikea store and the Dry Creek light rail station. A Regulating Plan determines the heights of buildings, the number of residential units, configuration of the streets and other details. Brue-Baukol Capital Partners is the developer.

The OK for construction to start on the project has not yet met with the city's final approval but, in football terms, it's within five yards of scoring a touchdown. Approval of a Site Plan by the council is still needed for construction to begin. A Site Plan includes the drawings that the developer or contractor intends to use for actual construction on the property.

Once approved, full development and construction of The Jones District is expected to take a decade or more.
News Notes
In case you are wondering when our Willow Creek 3 residential streets qualify for city snowplowing following a winter snow storm, here's the scoop: The city prioritizes its streets into Priority 1, Priority 2 and Priority 3. Our WC3 streets are considered Priority 3. According to the city's website, "Priority 3 streets are maintained only when authorized by the City Manager or his designee. The City Manager will consider the following guidelines in determining when to authorize Priority 3 snow route plowing: Forecasted street snow accumulation is six (6) or more inches; Forecasted temperatures are below freezing for an extended period after the storm; Forecasted additional snow events within the next 24-48 hours." Although city residents are not required to shovel their residential sidewalks, the city "strongly encourages citizens to remove snow from the sidewalks adjoining their property within 24 hours after a snowstorm ends." Click here for details on the city's snow removal requirements and guidelines….If you are new to Willow Creek 3, or simply haven't yet provided your email address to our management company, you are missing out on important email blasts sent periodically to residents. Information on special events as well as alerts and reminders are just some of the kinds of notifications that go out. To be included on the email list, send your name, preferred email address and home address (needed to prove you are a WC3 resident) to Amanda Phifer at Spectrum Commercial Real Estate Solutions: aphifer@scres.us.

Important Contacts and Links
• Spectrum Commercial Real Estate Solutions
1873 South Bellaire Street, Suite 300
Denver, CO 80222
303 409-6000 (main); 303 409-6001 (fax)
Hours: 8 a.m. – 5 p.m. Monday – Friday
Greg Coleman
303 409-6000
Email: gcoleman@scres.us
Amanda Phifer, Executive Administrative Assistant
303 409-6018 (direct); 303 409-6000 (main)
Email: aphifer@scres.us
• Board Email Address: wc3directors@gmail.com
Please identify yourself in your email. The board's goal is to check emails daily and respond within three days. The board asks for your patience in case there is an unforeseen delay.
• Clubhouse Manager: Deanna Mumfrey (See Clubhouse page for details)
Email: wc3clubhouse@comcast.net
720 933-0785
Clubhouse fee $35/day, $100 deposit. Need to complete rental agreement.
• Tennis court keys and pool keycards: Amanda Phifer
303 409-6018
Email: aphifer@scres.us
• Perfect Pools (WC3 pool management) 303 795-1191
Email: hb@perfect-pools.com
• JBK Landscape: 303 751-0192
WC3 landscape and greenbelt maintenance.
• Waste Management (trash and recycling) 303 797-1600
• Dolphins Swim Team (Willow Creek 3 youth swim team)
Email: swim@wc3dolphins.com
• Willow Creek Women's Club: Carolyn Pyron, President
Email: pyroncarolyn@yahoo.com
Natisha Doherty, Membership. Email: natisha.doherty@yahoo.com

• Willow Creek Tennis Club: Mary Beth Doerr, President
Organizes and promotes tennis activities for all three Willow Creek communities.
Email: marybethdoerr@gmail.com
• Arapahoe County Sheriff's Office non-emergency number: 303 795-4711
The ACSO provides police services under contract with the city of Centennial.
• City of Centennial Information Line: 303 325-8000
Available 24/7 to answer questions and direct you where to go for help.
• District 3 (includes Willow Creek) City Council Representatives :
Ken Lucas, 303 754-3367, Email: klucas@centennialco.gov
Mike Sutherland, 303 754-3407, Email: msutherland@centennialco.gov
• City of Centennial Animal Control : 303 325-8070
• South Suburban Parks and Recreation: 303 798-5131
• South Metro Safety Foundation: 303 805-0228; 720 989-2260
Classes offered by this organization include: CPR, Driver Awareness, Teen Crash Avoidance, Super Sitting Babysitting. They also do child car seat inspections.
• Nextdoor.com: A free social network serving neighbors and the community. Monitored locally by Willow Creek residents.
Do you have website questions, comments, criticisms, suggestions, news? Email website administrator Bob Correll: bob7633@gmail.com