Trash Pickup Reminder
Because of the Monday Memorial Day holiday, trash and recycling will be picked up on Saturday this week, not Friday.  
June Willow Works
Click here to view the digital edition of the June Willow Works newsletter.  The print version should be in residents'
mailboxes sometime around the first week in June.

Pool Open for the Summer
Our Willow Creek 3 pool is open.  Remember, you'll need your pool/tennis courts key card for access.  Don't have one?  Contact careteam@rowcal.com, 303 459-4919.   Pool hours: Monday – Friday, 11 a.m. – 9 p.m.; Saturday & Sunday, 9 a.m. – 9 p.m.
Adopt-a-Tree Program – Volunteers Needed
Willow Creek III will be planting 14 new trees in our community and need friends, family, and

volunteers to help them thrive. This volunteer commitment will require additional watering of
the trees during the summer, fall and winter months, wrapping the trunks in late fall and
reporting any issues to the team. Care instructions will be given for each tree. Talking and
singing to the trees is optional but encouraged! 
If interested in volunteering, please email Donna at wc3grounds@gmail.com

Dolphins Swim Team 2023 Registration April 1 – June 1
Willow Creek III has a summer swim team! It is a must for all of the kids in the neighborhood and surrounding areas. You don't
have to be a Willow Creek resident to join! It is a great place to practice what the kids may already know, learn more and learn other strokes and generally be more comfortable and proficient around the water. And they usually have a lot fun while they're at it! Plus hanging out with their friends or meeting new friends!
The team is for all abilities and levels with an emphasis on learning to swim better. There are a handful of year-round swimmers, but the big majority of the team is kids having fun for the first part of the summer. Many swimmers have little or no experience when they start, and it's the team's job to introduce them to the sport of swimming. The Dolphins' website is loaded with plenty of information! www.wc3dolphins.com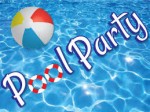 WILLOW CREEK III PIZZA, POOL, PARTY
DIVE INTO SOME FUN!
Saturday, June 17, 1:00 p.m. – 5:00 p.m.
Willow Creek III residents let's get together for some pool time, pizza, DJ Shaker, games and fun! Food and soft drinks will be provided. Please feel free to bring your own adult beverages in pool-safe containers.  Add to your calendar.
Volunteers are needed (appreciated!) to help with event setup, cleanup and game organization.  Email robinshively88@gmail.com to sign up!  
Willow Creek Summer Food Trucks
Hooray! Summer is here and that means food trucks. Food trucks will be in the Willow Creek 2 Mineral Clubhouse parking lot, 8500 E. Mineral Drive, from 5 p.m. to 7:30 p.m. on the second and fourth Wednesdays of each month beginning May 10. Organizers recommend checking Nextdoor for late changes to the schedule or menus.  Everyone is welcome.

Wednesday, June 14
• Hottie Robs
• Pink Tank
• What Would Cheesus Do
• Rebel Cookie Dough
Wednesday, June 28
• Simply Le Crepe
• Lucky Bird
• Chuey Fu's
• HipPOPs
2023 Willow Creek Garden Tour
Looking for a way to show off your beautiful garden and connect with your community?  Volunteer your garden for the Saturday, June 24, Willow Creek Women's Club 2023 Garden Tour.  Share your gardening knowledge and passion with others while enjoying a fun-filled day of exploration and discovery. Whether you have a small plot or a sprawling garden, showcase your green thumb talents.  For more information, call Juhi Johnson — sponsor and organizer of the Garden Tour — at 303 257-1905. 
The June 24 tour runs from 10 a.m. – 1 p.m.  Begin at the Willow Creek 2 Willow Way Clubhouse, 7700 South Willow Way, to receive a map and tour information.  (Photos from 2022 Willow Creek Garden Tour.)




News Notes
Waste Connections Recycling
If you'd like a printable sheet detailing items Waste Connections accepts (and doesn't accept) for recycling, click here.
The Clubhouse is available for rentals
See the Clubhouse page for details.

Important Contacts and Links
• Management Company:
RowCal
5995 Greenwood Plaza Blvd., Suite 240
Greenwood Village, CO 80111
Email: careteam@rowcal.com
303 459-4919
• Willow Creek 3 Manager
Tanya Valis
303 459-4919
Email: careteam@rowcal.com
• Dues: 
Single-family home dues:  $115.00
Townhome dues:  $165.00
• Clubhouse Manager: See the Clubhouse page.
Email: careteam@rowcal.com
Clubhouse fee: $65 for Willow Creek 3 residents, $100 for businesses (resident owned). $100 deposit.
• Pool and Tennis Court Keycard:
Email: careteam@rowcal.com
• Dolphins Swim Team (Willow Creek 3 youth swim team):
Email: swim@wc3dolphins.com
• Willow Creek Women's Club: 
Email: willowcreekwomensclub@gmail.com

• Willow Creek Tennis Club:  Stephanie Burt, Chair.
Organizes and promotes tennis activities for all three Willow Creek communities.
Email: willowcreek123tennis@gmail.com.
• Waste Connections (Trash and Recycle): 303-288-2100
• JBK Landscape:
Email the WC 3 community manager with questions at careteam@rowcal.com
• Perfect Pools (WC3 pool management):
Email the WC3 community manager with questions: careteam@rowcal.com.
• Arapahoe County Sheriff's Office non-emergency number: 303 795-4711
The ACSO provides police services under contract with the city of Centennial.
• City of Centennial Information Line: 303 325-8000
Available 24/7 to answer questions and direct you where to go for help.
www.centennialco.gov.    
• District 3 (includes Willow Creek) City Council Representatives :
Mike Sutherland, 303 754-3407, Email: msutherland@centennialco.gov
Richard Holt, 303 754-3367, Email: rholt@centennialco.gov

• City of Centennial Animal Control :  303 325-8070
• South Suburban Parks and Recreation: 303 798-5131
• South Metro Safety Foundation: 303 805-0228; 720 989-2260
Classes offered by this organization include: CPR, Driver Awareness, Teen Crash Avoidance, Super Sitting Babysitting.  They also do child car seat inspections.
• Nextdoor.com:  A free social network serving neighbors and the community.  Monitored locally by Willow Creek residents.
Do you have website questions, comments, suggestions?  Email website administrator Bob Correll at bob7633@gmail.com.