Buffy Krantz, 1958 – 2019
A 29-year Willow Creek 3 resident. She will be greatly missed.
On Friday, July 19, Buffy was honored with 500 purple balloons placed along the entire length of East Mineral Drive through Willow Creek, from South Yosemite to St. Thomas More church on South Quebec, the site of her funeral service. Buffy passed away July 11 after battling pancreatic cancer.

Mountain High Swim League Championships at the WC3 Pool
Hosted by the Dolphins July 13
And the race begins
A Butterfly competitor
A big crowd on a toasty day
Fun Ahead!
Here are some special events taking place in our Willow Creek community over the next couple of months:

Willowstock is scheduled for August 17 in the park space next to the pool at 7700 South Willow Way. From about 3:30 p.m. until 9:30 p.m., organizers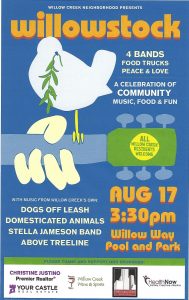 have arranged for Willow Creek bands to perform in celebration of the 50th anniversary of the original Woodstock Music Festival. This free event is being promoted as family friendly, kid friendly and featuring "community, music, food and fun." Food trucks will be on site for purchases. For more information, contact Blair Zykan at blair@blairzykan.com, 303 324-7606.

The 14th Annual Willow Creek Tennis Classic takes place from September 4 through 8. Organized by the Willow Creek Tennis Club, the Tennis Classic offers competition in men's and women's doubles and mixed. There will be a party and prize drawing on Friday the 6th. Although competition takes place on courts throughout Willow Creek during this multi day event, the home base will be the Willow 2 clubhouse and courts at 8500 East Mineral Drive. For details on this event, email rbolin_99@yahoo.com.

And on Wednesday, September 18 from 11 a.m. until 2 p.m., the Willow Creek Women's Club will hold its annual Willow Creek Home Tour. This year's tour will feature six homes located in Willow Creek 1, 2 and 3. Tickets are $10 for just the tour or $20 for the tour and a year's membership in the Women's Club. Tickets, maps and brochures will be available tour day at the Jamison Clubhouse, 8050 East Jamison Drive. If you have questions, contact Christine Justino at cjustino@yourhomepro.net, 303 916-3475.

Unfortunately, one event not continuing this year is the Willow Creek Fall Festival. The Festival was organized the past eight years by real estate firm The Gilbert Group.
The Jones District — Information and Links
What is The Jones District and why should Willow Creek 3 residents care?
The Jones District is a development proposed for construction just east of Willow Creek between the Ikea store and the Dry Creek light rail station. Think of it as a smaller version of the Tech Center and The Streets at SouthGlenn combined. As envisioned by the developers, Brue-Baukol Capital Partners, the district will include over 3 million square feet of high-rise office buildings, retail and entertainment space, and as many as 1,500 residential units (mostly apartments) on 36 acres of undeveloped land.

Here are links to information on The Jones Districtand answers to Frequently Asked Questions. Residents are encouraged to become informed and express any concerns to the city. Comments on the development can be emailed to jones@centennialco.gov or to Principal City Planner Jenny Houlne at jhoulne@centennialco.gov.

For the past six months or so, the city has been taking public comment on the development — including comments on the design, density and potential traffic impact on our community. The city will be holding Planning and Zoning Commission hearings and City Council hearings in the upcoming summer and fall months to review the development and to take additional public comment before deciding on its future. The hearings will be advertised in advance.

News Notes
This is a reminder that dogs must be leashed when they are out and about in our community. Both the city and our HOA require it. City of Centennial Animal Control patrols Willow Creek and will issue warnings and tickets to offenders. There have been serious incidents in the past where unleashed dogs have injured other pets and/or caused residents to be concerned for their safety…Dinner-time food trucks will be available for all Willow Creek residents again this summer every second and fourth Wednesday through August 28. The trucks will offer a variety of food choices for purchase and will be located at the Mineral clubhouse parking lot, 8500 East Mineral Drive, from 5:30 p.m. 'til 8 p.m. Willow Creek 2 organizes this popular offering for the community. Residents are welcome to bring chairs, small tables, blankets and beverages. The clubhouse will not be open. Be aware that weather can impact the schedule. Check the Coming Events/Meetings listings on this Home page for the dates.

Important Contacts and Links
•Spectrum Commercial Real Estate Solutions
1873 South Bellaire Street, Suite 300
Denver, CO 80222
303 409-6000 (main); 303 409-6001 (fax)
Hours: 8 a.m. – 5 p.m. Monday – Friday
Greg Coleman
303 409-6000
Email: gcoleman@scres.us
Amanda Phifer, Executive Administrative Assistant
303 409-6018 (direct); 303 409-6000 (main)
Email: aphifer@scres.us
• Board Email Address: wc3directors@gmail.com
Please identify yourself in your email. The board's goal is to check emails daily and respond within three days. The board asks for your patience in case there is an unforeseen delay.
• Clubhouse Manager: Deanna Mumfrey (See Clubhouse page for details)
Email: wc3clubhouse@comcast.net
720 933-0785
Clubhouse fee $35/day, $100 deposit. Need to complete rental agreement.
• Tennis court keys and pool keycards: Amanda Phifer
303 409-6018
Email: aphifer@scres.us
• Perfect Pools (WC3 pool management) 303 795-1191
Email: hb@perfect-pools.com
• JBK Landscape: 303 751-0192
WC3 landscape and greenbelt maintenance.
• Waste Management (trash and recycling) 303 797-1600
• Dolphins Swim Team (Willow Creek 3 youth swim team)
Email: swim@wc3dolphins.com
• Willow Creek Women's Club: Carolyn Pyron, President
Email: pyroncarolyn@yahoo.com
• Willow Creek Tennis Club: Mary Beth Doerr, President
Organizes and promotes tennis activities for all three Willow Creek communities.
Email: marybethdoerr@gmail.com
• Arapahoe County Sheriff's Office non-emergency number: 303 795-4711
The ACSO provides police services under contract with the city of Centennial.
• City of Centennial Information Line: 303 325-8000
Available 24/7 to answer questions and direct you where to go for help.
• District 3 (includes Willow Creek) City Council Representatives:
Ken Lucas, 303 754-3367, Email: klucas@centennialco.gov
Mike Sutherland, 303 754-3407, Email: msutherland@centennialco.gov
• City of Centennial Animal Control: 303 325-8070
• South Suburban Parks and Recreation: 303 798-5131
• South Metro Safety Foundation: 303 805-0228; 720 989-2260
Classes offered by this organization include: CPR, Driver Awareness, Teen Crash Avoidance, Super Sitting Babysitting. They also do child car seat inspections.
• Nextdoor.com: A free social network serving neighbors and the community. Monitored locally by Willow Creek residents.
Do you have website questions, comments, criticisms, suggestions, events, news? Email website administrator Bob Correll: bob7633@gmail.com