WC3 Town Hall Meeting May 23
The Willow Creek 3 Board of Directors is holding a Town Hall Meeting at 6 p.m. on Thursday, May 23, concerning a proposed change to the covenant covering truck parking in our community. The hour-long meeting will take place at the clubhouse.
Residents are encouraged to attend to learn about the wording of the proposed change and about the upcoming community-wide vote on the proposal. The truck parking covenant has been an issue in the community for almost as long as Willow Creek 3 has existed.
An attorney from the Moeller Graf law firm that represents Willow Creek 3 will attend the meeting.

Pool Opens May 25
The Willow Creek 3 pool is scheduled to open at 9 a.m. on Saturday, May 25. That's the Saturday of the Memorial Day holiday weekend.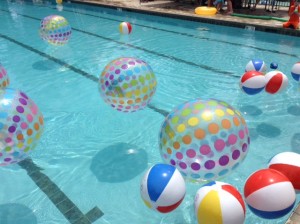 Summer pool hours are 9 a.m. to 9 p.m. Saturdays, Sundays and holidays; 11 a.m. to 9 p.m. Monday through Friday.
The WC3 board is looking at replacing some of the pool furniture that has seen its better days. And work was recently completed to replace a problematic sewer line that negatively impacted poolhouse plumbing.
Part of the summer pool fun is taking in a Willow Creek 3 Dolphins youth swim team meet. On Saturday, June 8, the Dolphins host the Lifetime Lightning Bolts at our pool. The meet begins at 8 a.m. and should be complete around 1 p.m. The Dolphins will also host a championship meet on July 13.

News Notes
Just a reminder that trash and recycling pickup will take place on Tuesday, May 28, in Willow Creek 3 rather than on the Monday Memorial Day holiday…Dinner-time food trucks will be available for all Willow Creek residents again this summer every second and fourth Wednesday through August 28. The trucks will offer a variety of food choices for purchase and will be located at the Mineral clubhouse parking lot, 8500 East Mineral Drive, from 5:30 p.m. 'til 8 p.m. Willow Creek 2 organizes this popular offering for the community. Residents are welcome to bring chairs, small tables, blankets and beverages. The clubhouse will not be open. Be aware that weather can impact the schedule. Check the Coming Events/Meetings listings on this Home page for the dates.

Important Contacts and Links
•Spectrum Commercial Real Estate Solutions
1873 South Bellaire Street, Suite 300
Denver, CO 80222
303 409-6000 (main); 303 409-6001 (fax)
Hours: 8 a.m. – 5 p.m. Monday – Friday
Greg Coleman
303 409-6000
Email: gcoleman@scres.us
Amanda Phifer, Executive Administrative Assistant
303 409-6018 (direct); 303 409-6000 (main)
Email: aphifer@scres.us
• Board Email Address: wc3directors@gmail.com
Please identify yourself in your email. The board's goal is to check emails daily and respond within three days. The board asks for your patience in case there is an unforeseen delay.
• Clubhouse Manager: Deanna Mumfrey (See Clubhouse page for details)
Email: wc3clubhouse@comcast.net
720 933-0785
Clubhouse fee $35/day, $100 deposit. Need to complete rental agreement.
• Tennis court keys and pool keycards: Amanda Phifer
303 409-6018
Email: aphifer@scres.us
• Perfect Pools (WC3 pool management) 303 795-1191
Email: hb@perfect-pools.com
• JBK Landscape: 303 751-0192
WC3 landscape and greenbelt maintenance.
• Waste Management (trash and recycling) 303 797-1600
• Dolphins Swim Team (Willow Creek 3 youth swim team)
Email: swim@wc3dolphins.com
• Willow Creek Women's Club: Carolyn Pyron, President
Email: pyroncarolyn@yahoo.com
• Willow Creek Tennis Club: Mary Beth Doerr, President
Organizes and promotes tennis activities for all three Willow Creek communities.
Email: marybethdoerr@gmail.com
• Arapahoe County Sheriff's Office non-emergency number: 303 795-4711
The ACSO provides police services under contract with the city of Centennial.
• City of Centennial Information Line: 303 325-8000
Available 24/7 to answer questions and direct you where to go for help.
• District 3 (includes Willow Creek) City Council Representatives:
Ken Lucas, 303 754-3367, Email: klucas@centennialco.gov
Mike Sutherland, 303 754-3407, Email: msutherland@centennialco.gov
• City of Centennial Animal Control: 303 325-8070
• South Suburban Parks and Recreation: 303 798-5131
• South Metro Safety Foundation: 303 805-0228; 720 989-2260
Classes offered by this organization include: CPR, Driver Awareness, Teen Crash Avoidance, Super Sitting Babysitting. They also do child card seat inspections.
• Nextdoor.com: A free social network serving neighbors and the community. Monitored locally by Willow Creek residents.
Do you have website questions, comments, criticisms, suggestions, events, news? Email website administrator Bob Correll: bob7633@gmail.com